Nuova tecnologia di energia delle onde della Marina statunitense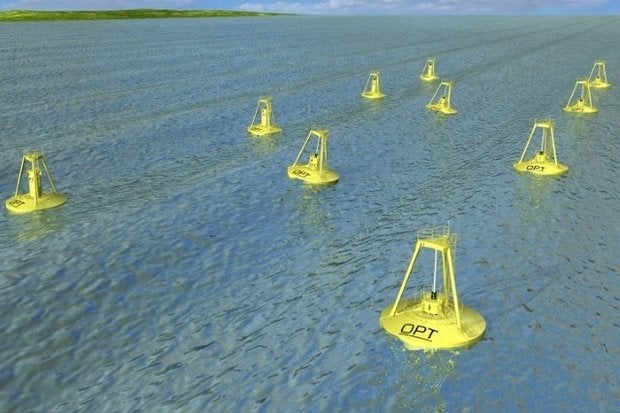 US Navy e Department of Energy ha dichiarato di voler spendere 10 milioni di dollari per testare nuove tecnologie di energia delle onde nelle acque profonde. I dispositivi rientrano in quello che è conosciuto come Marine and Hydrokinetic Technology (MHK), che converte l'energia delle onde, delle maree e delle correnti fluviali e oceaniche in elettricità pulita e rinnovabile utilizzabile anche nelle abitazioni e nelle aziende.
"
Un totale di 10 milioni di dollari è stato reso disponibile per i test in acqua per raccogliere importanti prestazioni, l'affidabilità, e dati relativi ai costi da dispositivi innovativi di conversione dell'energia delle onde che si trovano nelle ultime fasi di sviluppo della tecnologia
," ha dichiarato i
l DOE
(Department of Energy ).
Ocean Energy USA metterà alla prova una distribuzione su larga scala della loro Ocean Energy Buoy.
L'Ocean Energy Buoy funziona sfruttando l'energia dell'aria che viene compressa dalla naturale ascesa e caduta delle onde del mare, trasformandola in energia elettrica.Il Dipartimento per l'Energia e la Marina raccoglierà i dati durante la distribuzione. Obiettivi della ricerca includono la convalida dell'ormeggio e a durata del dispositivo in mare aperto, misurazione della potenza disponibile in piena scala, e valutazione del costo dell'energia prodotta dal dispositivo. Northwest Energy Innovations costruirà e verificherà un modello in scala del suo dispositivo "
Azura" WEC
.
Azura
estrae energia da entrambi i movimenti verticali ed orizzontali delle onde per massimizzare la cattura di energia.
Il test consente al Dipartimento per l'energia e la marina di raccogliere dati esaurienti e valutare come il dispositivo esegue in oceano aperto. I dati del test saranno utilizzati per convalidare i modelli generati dal Dipartimento a disposizione del pubblico, open-source Wave Energy Conversion Simulator tool.
Ocean Energy USA e Northwest Energy Innovations metteranno a dura prova i loro dispositivi di conversione dell'energia delle onde per un anno in nuovi test in acque profonde presso la Navy's Wave Energy Test Site (WETS) fuori dalle acque della base della Marina alle Hawaii.
VIDEO SU Youtube
Fonte e immagine sopra:
www.networkworld.com/