Artico: si è chiusa la stagione dei viaggi con risultati record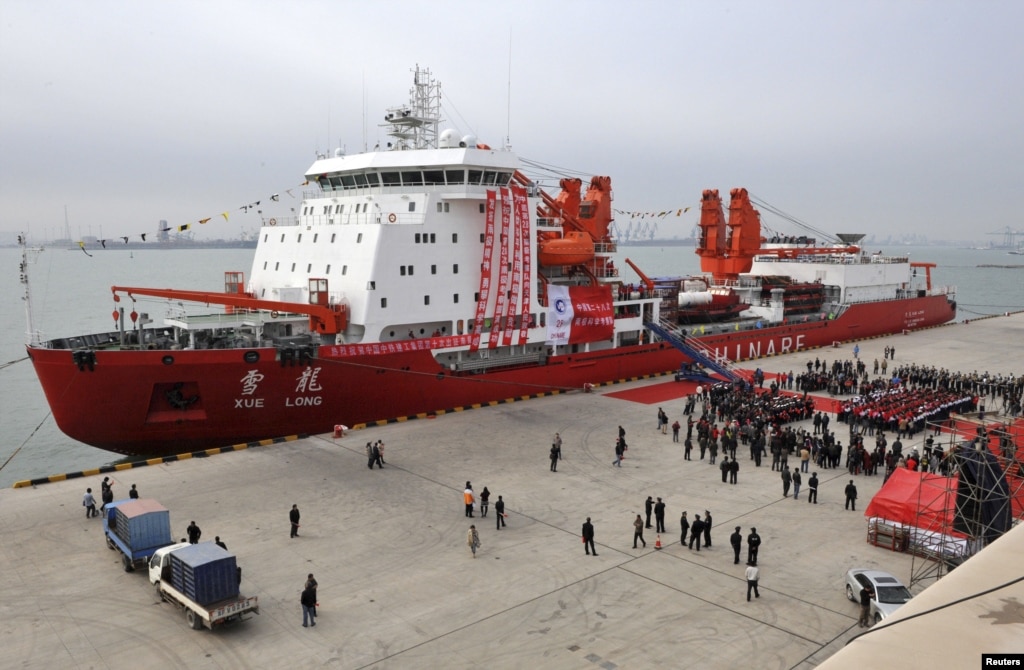 Se per alcuni scienziati americani lo scioglimento dei ghiacci artici ha contribuito a creare il più grande uragano atlantico mai registrato, Sandy, russi e i cinesi ne vedono invece il lato positivo.
Ieri si è chiusa la stagione
della navigazione artica in Russia e ha registrato un transito di navi da carico e volumi record. Ci sono state 47 traversate a bordo delle navi tra Asia ed Europa - quasi 12 volte i quattro registrato nel 2010.
In settembre, satelliti americani hanno registrato il più grande restringimento del ghiaccio artico da quando è iniziato il monitoraggio, 33 anni fa. Questa estate, il ghiaccio si é ritirato per 3,4 milioni di chilometri quadrati - circa la metà i livelli medi registrati degli anni ottanta e anni novanta. Le indagini sono fatte dal
National Snow and Ice Data Center presso la University of Colorado at Boulder
Con il mare più aperto, esperti degli Stati Uniti prevedono che i volumi di carico aumenteranno in questo decennio di oltre 50 volte dal livello di quest'anno. Per l'Europa del Nord, l'itinerario Artico russo può tagliare 7.000 chilometri del tradizionale viaggio in Asia attraverso il canale di Suez
L'orgoglio russo nella regione artica è così alto che c'è un movimento in corso a Mosca che vuole rinominare
i 7.000 km di litorale al largo della costa come mare di Russia ( the Sea of Russia).
La Cina ne ha preso nota, inviando la sua prima nave attraverso il passaggio artico della Russia. Il rompighiaccio
Snow Dragon
(in entrambe le immagini)
é salpato dalla Cina all'Islanda e ritorno, attraccando a Shanghai lo scorso settembre.
Sergey Balmasov, un russo che gestisce l'Ufficio Informazioni Artico Logistica a Kirkenes, Norvegia del Nord, ha detto che l'acqua aperta e una stagione di cinque mesi ha permesso a parecchie navi da carico di fare viaggi di andata e ritorno attraverso la parte superiore della Russia quest'estate.
"
Il più grande ostacolo è la mancanza di navi e anche la mancanza dei carichi disponibili per essere trasportato
," ha detto Balmasov.
Circa la metà dei carichi erano prodotti petroliferi, compreso il primo passaggio di gas naturale liquefatto, in un viaggio dalla Norvegia al Giappone. Il resto era in gran parte carbone e minerale di ferro per le fabbriche asiatiche.
Ivan Blokov, direttore della campagna Greenpeace Russia ha avvertito che le petroliere minacciano la fragile ecologia della regione artica.
"
Il trasporto di petrolio o di qualsiasi altra sostanza pericolosa attraverso il Passaggio del Nord dovrebbe essere escluso con il 100 per cento di garanzia
", ​​ha detto a Mosca. "
Perché non si può mai essere sicuri che non ci sarà nessun incidente.
"
Blokov ha recentemente visitato il porto in Alaska, dove la petroliera Exxon Valdez ha versato mezzo milione di barili di petrolio nel 1989. Ha detto che ci sono voluti 15 anni e miliardi di dollari per ripulirlo.
Greenpeace ha commissionato uno studio di che cosa accadrebbe se vi fosse una fuoriuscita simile nella Russia artica.
"
La conclusione degli scienziati è stata che al massimo il 10 per cento del petrolio fuoriuscito può essere raccolto, e che alcune migliaia di chilometri di costa artica può essere inquinata
", ha detto Bokov.
Balmasov, sostenitore della Rotta del Mare del Nord della Russia, ha detto che le regole di navigazione nel mondo sono notevolmente migliorate in un quarto di secolo, da quando il petrolio fuoriuscì dalla nave cisterna Valdez. '
L'approccio generale è che non ci siano incidenti
", ha detto.
"La Russia ha ora regole molto severe in termini di ambiente. Tutte le navi devono essere a doppio fondo
(la Valdez aveva uno scafo singolo).
Egli ha poi aggiunto che le compagnie di assicurazioni internazionali caricano lo stesso ammontare per un viaggio attraverso l'Artico russo come fanno per le navi che attraversano il Canale di Suez e in acque infestate dai pirati nell'Africa orientale.
Tutti concordano sul fatto che i capitani che si avventurano nelle acque artiche dovrebbero essere pronti a tutto.