Africa: un accaparramento di terre senza freni e...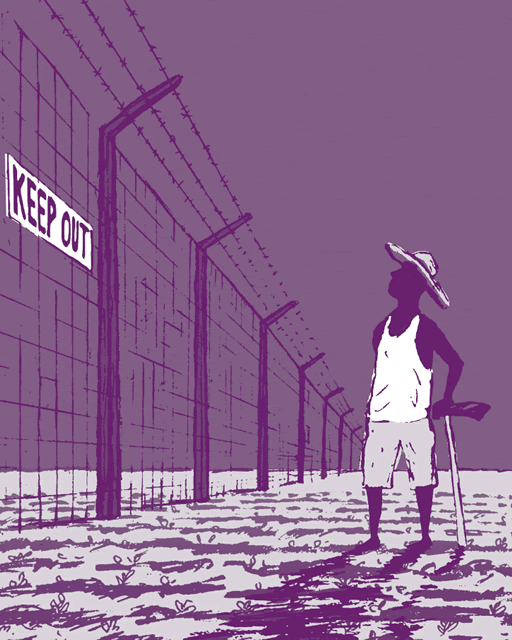 Secondo una recente ricerca più di
55 milioni di ettari
di terra in Africa sono stati "accaparrati" a partire dal 2000. Più terra è stata accaparrata in Africa tra il 2000 e il 2012 che nel resto del mondo messo insieme, ha detto il Dr Blessing Karumbidza, senior associate di ricerca presso Durban University of Technology, ha detto alla conferenza Africa land Grab a Midrand.
L'accaparramento di terre sono stati ampiamente definiti come grandi acquisizioni di terreni che hanno spostato le comunità vulnerabili e gli agricoltori, col disprezzo per i diritti di queste persone e degli impatti sociali e ambientali. Hanno avuto luogo senza libero consenso nel contesto di scarse strutture di governance istituzionale.
Le grandi multinazionali, con il consenso dello stato, e lo stato stesso, erano implicati nel land grabs. Un fattore che contribuisce al lanf grabs è stato il retaggio della proprietà della terra dell'epoca coloniale che, in seguito alla decolonizzazione, ha lasciato la questione di chi fosse il proprietario irrisolta.
"
Anche in paesi come il Sud Africa, dove vi sono le risorse... la conoscenza di chi possiede quale specifico territorio non è ancora chiaro
," ha detto Karumbidza.
"Il quadro complessivo di governo non è ancora risolto in Sud Africa e in tutto il continente. Qual è il miglior sistema di terra che sarebbe adatto l'Africa?
" egli si è chiesto.
E proprio dal Sud Africa, la vigorosa
Winnie Madikizela-Mandela
sostiene che il suo ex marito
Nelson Mandela
abbia commesso frode di terra quando ha registrato un appezzamento di terreno a Qunu, in nome proprio, ha riferito the City Press, domenica. Lei sta sfidando lo State Land Disposal Act State, che l'ex presidente avrebbe usato per acquisire la proprietà. Madikizela-Mandela sostiene che aba Thembu king Buyelekhaya Dalindyebo le diede la terra in cui Mandela fu imprigionato e che è di suo diritto.
La combattiva Madikizela-Mandela, 78 anni, che è stata la seconda moglie di Nelson Mandela per 38 anni, è stata tagliata fuori dalla sua volontà, e ciò è emerso dopo la sua morte, avvenuta nel dicembre dello scorso anno.
Immagini: farmlandgrab.org/ - the-atrocities-perpetrated-against-th.blogspot.it/